Notice
: Can't get the bearer token, check your credentials ( Response: Forbidden ) in
/var/www/wp-content/plugins/fanciest-author-box/includes/class-wp-twitter-api.php
on line
155
Warning
: preg_replace(): The /e modifier is no longer supported, use preg_replace_callback instead in
/var/www/wp-content/plugins/fanciest-author-box/includes/ts-fab-construct-tabs.php
on line
94
A good burger can be simple. A juicy patty, a quality bun, some crisp lettuce, a sweet slice of tomato, and maybe some extra fixings. It's a staple on most restaurants' menus because it's a meal everyone can get behind. From the time you are a child ordering off the kid's menu to the time you qualify for the senior special, a burger was and will always be there. I took this week to find that perfect burger enjoyed by all ages, right here on Market Street.
There are a few key things to look for when eating a burger. One is juiciness. If those juices aren't dripping down past your hands and onto the plate, it's not a good burger. Another is flavor. If the patty's essence isn't the main star, it's not a good burger. Next is the toppings. Whether it's the classic choices like lettuce, tomato, onion and pickles or something a little outside the box like banana peppers, the toppings should perfectly compliment the burger. And finally, the bun. The bun is like the house that holds everything in. It should be soft, but sturdy enough to absorb the juices without disintegrating.
I picked four spots on Market Street that are known for burgers in some way: Market Street Brewing Company, Holmes Plate, Burgers and Beer, and R&M. All the burgers were cooked to medium rare, when asked, and although I mention some of the sides, I kept them out of the ratings.
Market Street Brewing Company – Pub Burger – $13.18
This burger was a half pound of Angus beef and came with lettuce, tomato and mayo on a kaiser roll. Pretty simple when it comes to burgers these days. It didn't even come with cheese unless you were willing to pay the extra $1. But this burger delivered. The patty was so juicy, it coated the plate as I ate. It was flavorful enough that without the cheese I didn't feel like I was missing anything. The bun was a little crisp on the outside and soft on the inside, just enough to soak up some of the delicious juices I didn't want to lose to the plate. This burger was simple enough you could make it at home, but the complexity of the flavors make you want to come out for it. It came with a choice of side and I got sweet potato fries, which were ah-maz-ing. Crispy on the outside and soft on the inside.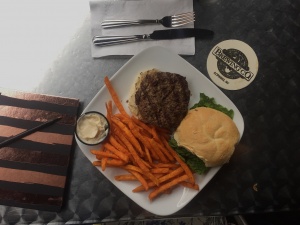 MSBC: The honest burger – No glitz, no glam, straight up just what you need.
Holmes Plate – Steak Burger – $13.54
This burger was a half pound ground steak that came with lettuce, tomato, cheese, and bacon on a house baked bun. The patty was definitely juicy but lacked the flavor I was waiting to taste. It also came with blue cheese instead of the cheddar cheese I asked for. Although I didn't send it back because I've worked in the food industry and didn't want to be "that person," the flavor overwhelmed the whole burger (it's a good thing I like blue cheese). The burger was also a little overcooked. My medium rare came out with no pink. Aside from the cheese mixup, the dressings were great. The bacon was a nice touch and I appreciated the pickle that came on the side to cut through the thickness of the blue cheese. The meal also came with house-made chips, which were delicious. Their inconsistent texture told you that they were homemade.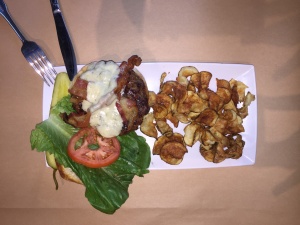 Holmes Plate: The pros and cons burger – fell short in some areas but exceeded expectations in others.
Burgers and Beer – Classic Cheese Burger – $6.43
This burger was one third pound of Angus beef that came with lettuce, tomato, onions, American cheese and pickles on a brioche bun. I had high hopes for this place. After all, if you're going to put it in your name, you should make a damn good burger. But this one was mediocre. The patty was dry; after I had finished, there was much more pickle juice than patty juice on my tray. The toppings were okay but the pickles tasted exactly like the ones used at McDonald's, so I felt like I was eating fast food. And the bun was probably the most disappointing. A brioche bun is something all buns strive after: soft, fluffy insides and a glazed, crisp, toasted outside. These buns hadn't achieved brioche status yet.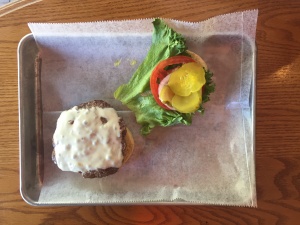 Burgers and Beer: The disappointment burger – The appearance makes you think it will be good, but once you're in, you're let down.
R&M – Big House Burger – $7.29
This burger was marinated ground beef that came with banana peppers, Monterey Jack cheese, lettuce, tomato, onion and special sauce on a bun. It's no surprise this is a good burger; it was voted best in all of upstate New York. But this burger's unconventionality still surprised me. Who had ever heard of putting banana peppers onto a patty? When I bit into the whole thing, I was hit with the flavor. You can instantly tell the meat is marinated with tons of deliciousness. Then, cutting through it all with a kick were those banana peppers. And holding it all together was the bun – buttery on top with a perfect dome shape to it, fluffy enough on the inside to hold in all the juices. I am always striving to find food with the perfect bite: all the elements come together in a beautiful dance that satisfies your taste buds. And this burger certainly has that.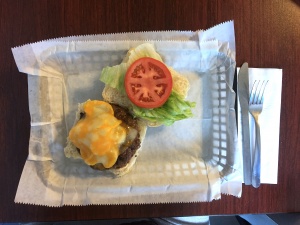 R&M: The perfect bite burger – enough said.
Conclusion
Market St. has some great staples when it comes to burgers. You don't have to walk far to find exactly what you are looking for. In fact, these four places are all within two block of each other. But my favorite was R&M. The marinated beef that gave the patty flavor, the surprising factor of the banana peppers, and the bun pushed this one over the edge to top out MSBC.
After three days of eating only burgers for lunch, I learned that in burgers lies diversity: the power to make a meal out of only a patty and bun, customizing it with any toppings. Everyone's favorite is a matter of taste. Also, I won't be eating any burgers for a while.
Tell us your favorite burger place below!
The Breakdown