Notice
: Can't get the bearer token, check your credentials ( Response: Forbidden ) in
/var/www/wp-content/plugins/fanciest-author-box/includes/class-wp-twitter-api.php
on line
155
Warning
: preg_replace(): The /e modifier is no longer supported, use preg_replace_callback instead in
/var/www/wp-content/plugins/fanciest-author-box/includes/ts-fab-construct-tabs.php
on line
94
It?s the ultimate comfort food. Fast, easy, cheap, and most importantly, delicious. All you really need are three ingredients: butter, cheese, and bread. Add in a heat source, and there you have a delicious, melty delight for only a few dollars.?This week, I tested out grilled cheeses from around town to find the best tasting one.
With such simple ingredients, it?s easy to just stay home and make the sandwich yourself. But with a little jazzing up, the flavors can be taken to a whole new level, making you want to leave the house for it. I tried four places to see which one gave me that feeling – the motivation to get up off my butt and buy a fabulous grilled cheese.
I judged each sandwich off of four factors – cheese quality, bread quality, size and price. The cheese has to be soft, melty, and stretchy. It has to be the star – adding the most flavor and depth to the dish. The bread has to be the house – holding in all that gooey cheese but still with a crunchy outer crust and soft buttery inside. The price has to be reasonable – after all, it?s the most basic of sandwiches, so the price should not deter me from wanting to buy it again.?
Poppleton?s – Provolone and Cheddar Grilled Cheese – $9.45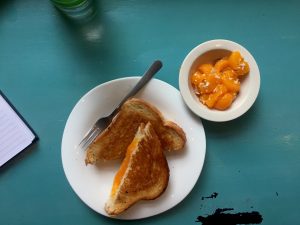 This sandwich had two kinds of cheese, as the name so clearly distinguishes, on sourdough bread. The outside of the bread had a nice crunchiness to it, which protected the soft inside. The cheese was warm, melty and stringy. Overall, great texture from the two stars. What was lacking was the flavor. I couldn?t quite pin it down, but something was missing. And with the use of two different kinds of cheese, I was surprised to find the lack of complexity. But this grilled cheese didn?t have that ump I was looking for. And certainly wouldn?t motivate me enough to get off my couch and go buy it, when I can make it just as well at home.
Mooney?s – Regular Grilled Cheese – $9.71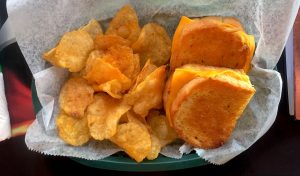 Before I even read through my grilled cheese choices, I was told this sandwich was not like my mommy?s grilled cheese. Big words, if you ask me. Big words that the sandwich didn?t quite live up to. ?Let?s start with the bread. The bread was pretty gosh darn amazing. It was thick and crunchy, holding everything in perfectly. I would take a bite and could hear the outside crackling under my teeth. It was buttery but didn?t make my hands all oily. The cheese, however, could have made it my mommy?s grilled cheese. It was american cheese. Not just any american cheese, but the orange american cheese. I was a little disappointed. It was thick and almost too starchy. I like a little variation of flavors with my grilled cheese, especially if I am leaving my house in something other than sweatpants and paying $10 for it.
Old World Cafe – The Big Cheese – $10.53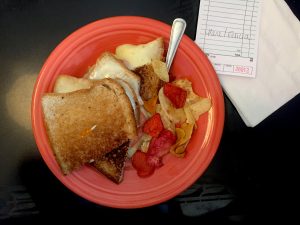 And big it was. Three generous halves of whole wheat bread filled with Italian Fontina cheese and a slice of tomato. Just from picking up the first half, the cheese stuck to the plate and stretch a considerable amount – I was sold then. Although only one kind was used, it was all that was necessary for the cheese to give plenty of flavor to the sandwich. The tomato was the simplest but perfect addition as it cut right through the thickness of the cheese. The bread was alright. It softened under the threat of the moist cheese but it still had some crunch on the outside. Although this was a little bit more expensive of a sandwich, the portion size was plenty big to fill me up for lunch.
Carey?s Brewhouse – Grilled Bacon Cheese – $11.83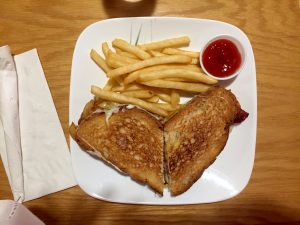 This sandwich was the most disappointing. All of the elements were there to make this the best grilled cheese. But somewhere along the way, it was lost in execution. The bread was great quality, sourced from Old World. But it was dry as it wasn't buttered up like a classic grilled cheese. The cheese combination of fontina, gouda, and sharp cheddar was delicious: salty, complex, flavorful. But the cheese wasn?t completely melted. And the bacon sounded like a nice addition, but the texture and flavor bacon normally adds to a dish was lost in the layers of cheese. This one had so much potential, but there were just too many ?buts? that brought this sandwich down.
Conclusion
A grilled cheese is such an innocent, simple sandwich. It?s only three basic ingredients, but when done right with quality cheese, bread, and butter, it can be oh-so delicious. And Old World Cafe outdid themselves this time around. Their gooey, melty cheese freshly made on crunchy bread and a simple slice of tomato gave this sandwich the trophy.
Tell us your favorite place to get a grilled cheese below, or what your homemade twists are.