I love Thai food. In fact, it is one of my favorite cuisines. So, when I heard about Nine Elephants opening up on Market St., I was super excited. I won't have to drive all the way to Ithaca anymore to kick my Thai cravings! Today, I finally decided to head there for lunch.
Before diving into their pad thai, I wanted to do some research on what this new restaurant is all about and how the public is receiving them.?They claim to be an upscale eatery with a focus on Cajan seafood and Thai cuisine, which I find to be an interesting combination, but the world is full of those (who doesn't love a crispy french fry dipped in a frosty).?Nine Elephants only opened up a few weeks ago, so there weren't a ton of reviews. But from what was available, it was a pretty mixed bag.
Yelp had 8 reviews with 4.5 stars. Facebook had 7 reviews with 4.3 stars. Not really enough to get a good grasp on what local Corning folk are thinking. There was also an extremity between the reviews: either raving about how awesome Nine Elephants is, or completely disappointed in the food.
Let's breakdown my experience:
Ambience:
What I mean by ambience is a combination of the decor and the feeling I get when I'm in the restaurant. The decor had very on-theme beachy/fisherman's vibe. It is how I imagine an Airbnb on the coast would be decorated. There were nets on the ceiling, colorful lights under the bar and a video loop of vibrant ocean fish on the TV. The inside was dark, perfect for evening dining but a little dim for lunch. It was also loud; the sound of patrons talking seemed to reverberate off the walls and through the entire restaurant. About half to two-thirds of the tables were full. The service was good; the server was very knowledgeable and able to answer all my questions. Overall, I would give the ambience a thumbs up. Its not homey or warm-feeling, but goes with the food they are serving.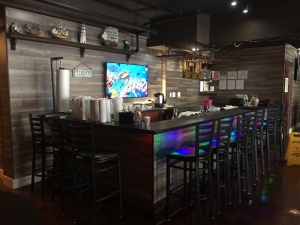 Food:
As I mentioned earlier, I went in for lunch so I ordered off the lunch menu (no kidding!). With 12 different lunch combos, soups and appetizers, there are choices that range from the classic pad Thai to fried catfish. Each combo comes with the soup of the day and the main course. I went with the my all time fave, pad Thai with pork. Something strange that occurred was pertaining to the soup. After about 15 minutes of waiting, my main course came out with no soup. When I asked about it, the server told me it was just a vegetable soup and that they were out of it. After about 5 minutes into eating my pad Thai, she brought out a small cup of the soup: vegetable broth with carrots, peas and onions. It was good, but certainly nothing to write home about. The portion size of the pad Thai was a little underwhelming considering the price (Lunch combos vary based on what kind of meat you order. Chicken, pork, veggies and tofu are all $11.99. Beef is $12.99. Shrimp and squid are $13.99. and seafood is $14.99). I walked out feeling not quite full.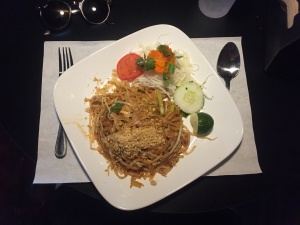 But the flavor, that is what I would go back for. It was perfectly saucy (A dry pad Thai is a pet peeve of mine), came with extra peanut crumbles to put on top (I like my noodle to peanut crumble ratio at approximately 1:1), and there was plenty of pork.
Conclusion:
I do feel like Nine Elephants is still experiencing growing pains. The service was good, but a little slow. The prices are a little high and I had some trouble getting the soup that came with my lunch combo. They did kick my Thai craving, but just a few more noodles would have left me feeling a bit fatter and definitely happier. I did love what mattered when it comes to eating out: the food. And after-all, if a restaurant specializing in Thai cuisine can't cook pad Thai, they don't stand a chance.
I will be heading back to Nine Elephants in the coming months. I still want to try their other cajun specialties and see if the dinner portions are any different. But for now, I'll let them adjust to being a new restaurant on Market St.