Notice
: Can't get the bearer token, check your credentials ( Response: Forbidden ) in
/var/www/wp-content/plugins/fanciest-author-box/includes/class-wp-twitter-api.php
on line
155
Warning
: preg_replace(): The /e modifier is no longer supported, use preg_replace_callback instead in
/var/www/wp-content/plugins/fanciest-author-box/includes/ts-fab-construct-tabs.php
on line
94
The holiday shopping season is upon us and businesses in Corning's Gaffer District are prepared for the post-Thanksgiving rush. Black Friday, Small Business Saturday, Museum Store Sunday (new), and Cyber Monday come in quick succession. While you're considering where you'll go for gifts this year, the following is a short list of things that are ONLY available at some of our retail shops in Corning:
1) Vintage Pyrex / Market Street Antiques / $10 to $75
Corning is full of antique stores, and you never know what you might find… although vintage Pyrex is almost always?on the shelves at Market Street Antiques. You can add some retro style and dependability to any?kitchen. And if you're lucky, you may even find a rare collectible piece or something that already matches your grandmother's table setting. Happy hunting!

2) Rockwell Museum Collection Catalog / The Rockwell Museum / FREE (with any purchase this weekend)
Normally, you'd get a free Rockwell Museum catalog with a $20 purchase in the Museum Store. But thanks to a special offer for Urban Corning readers, the Rockwell is offering this catalog for free with ANY purchase this weekend. Just mention this blog post. In the words of a catchy Disney song from?Moana,?"You're welcome!"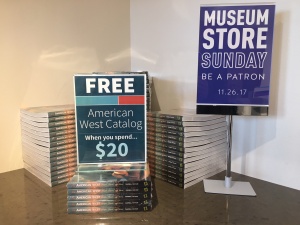 3) Christine Elizabeth Jewelry / Glamour and Glow / $36 to $145
Glamour and Glow owner Christine Spreng says, "Making people look and feel good is the key to brightening their day." She fulfills this mission by selling?her own line of handmade jewelry right on Market Street. And while you're buying gifts for someone else, you might as well try on some of the Glamour and Glow?winter styles for yourself.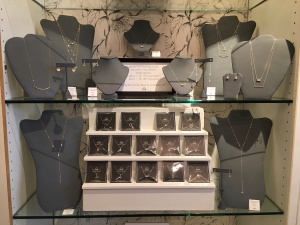 4) Urban Corning Merchandise / Card Carrying Books & Gifts / $3 to $25
Okay, so we buried the lead. Urban Corning is now selling merchandise in the form of t-shirts, mugs, luggage tags, and reusable shopping bags. And they are available EXCLUSIVELY at Card Carrying Books & Gifts. We've currently got a limited supply so you might want to get these first. And?as a side note, I recently traveled through Europe with an Urban Corning luggage tag and couldn't believe how durable it was. But wait, there's more. Its bright orange color made it easy to spot when my bag was coming down the luggage carousel. And it's only $5. What a deal. Okay I'm done.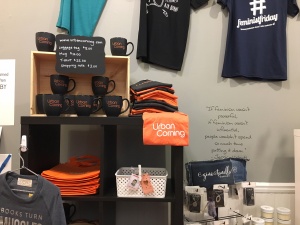 5) Bruce Baxter Paintings (original artwork) / West End Gallery / $800 to $900
West End Gallery features an array of incredibly talented local artists. At the next Urban Arts Crawl on Black Friday, you should check out Bruce Baxter's work. He features landscapes of Corning that bring out the colors and expressions of some of our favorite times of year, which is perfect for someone who lives far away but dreams of being back in town.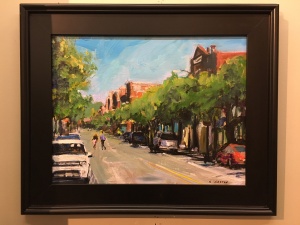 6) Locally Roasted Coffee and Branded Mugs / Soul Full Cup / $7.75 and $12.95
If you're like any of us here at Urban Corning, you can't stay away from Soul Full Cup for more than a few hours. And when your patience for family time is just about expired during the holidays, you can brew your favorite roast at home and enjoy it from a Soul Full mug. Oh wait, these are gift ideas… right… well, buy enough to share, I guess. Oh and they have t-shirts, too.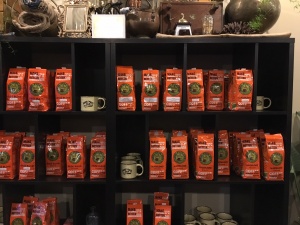 7) Hand-Blown Glass Snowpeople / Vitrix Hot Glass Studio / $25 to $65
Every day, you can walk into Vitrix and watch?glass artists working in the back. That alone is a sight to behold, and their creations are just as beautiful. Search through their entire collection of unique snowmen and snowwomen to find the perfect one for each person on your list.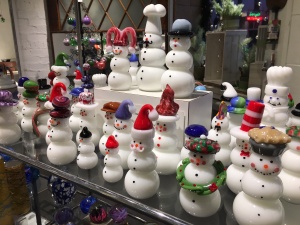 8) "Corning, NY" Merchandise / Connors Mercantile / $3 to $35
Whether you're looking for decorations, pins, ornaments, hoodies, coasters, wine glasses, bottle openers, or more, Connors has an awesome selection of "Corning, NY" branded merchandise that's not available anywhere else. And see if you can?get out of there without trying their chocolate truffles. Spoiler: you can't.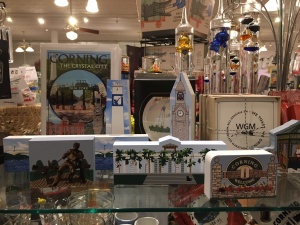 9) A New Family?Member / Tanner's P.A.W.S. / (adoption fees vary)
In case you weren't aware, Tanner's P.A.W.S. is now located on Market Street -?which is the greatest addition to Corning's Gaffer District since the clocktower itself. Pictured below is Caesar, a 1-year-old german shepherd from Egypt who was rescued by Tanner's P.A.W.S. before Egyptian laws required him to be euthanized. I met him briefly and he is now my best friend so if one of you adopts him, I will be visiting. Also, seriously check out this organization and all of the amazing?pets that are available. Or just stop in and test your level of self-control.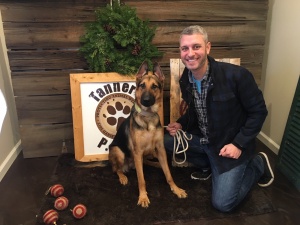 There are MANY unique options at our locally-owned stores and restaurants in Corning. And if you're still having a hard time finding a gift, you can always opt for a?Chamber of Commerce Gift Card, good at any participating member business.
So check this list twice, load up on turkey (or a gluten-free, vegan alternative), and rest up because you've got a lot of stores to visit in Corning this weekend!