After a classic long, cold upstate New York winter and spring, summer has finally arrived! Upstate New York is a beautiful region in the summer and Corning has so many exciting events planned all summer long. From art gallery nights to a weekly farmers market, Corning is truly offering something for everyone!
I have lived in upstate my entire life, and I've noticed that lately I haven't tried to venture out and do activities or see things here that I have not discovered before. I've decided I am making it my goal this summer to take advantage of the great events Corning has planned.
The first event I plan on attending this summer is the Downtown Corning Gallery Night. This event is free and open to the public, and will take place this Friday, June 16th. The Rockwell Museum is partnering with many of Corning's finest art stops for an incredible night. I am looking forward to all of the stops, as they each exhibit different types of unique art. One stop includes a fire art show, exhibiting work from local ceramicists, glassblowers, flame workers, and more. There will also be other stops with amazing art where you can meet the artists, appreciate live music, and enjoy food and drinks. There's even a chance to win artwork from one of the featured artists of the evening! This will be such a fun night and I can't wait to enjoy some amazing art works with other art-lovers. 
The next event I'm excited to attend is the farmers market. This will actually take place weekly, every Thursday at Riverfront Centennial Park. Farmers markets are such a fun activity in the summer, and Corning has some great things planned for the coming farmers markets. There will be the opportunity to shop from local vendors and farmers, and every Thursday there will be alternating featured events. Some weeks will be "Adoption Thursdays" with Pawz & Purrz, while other Thursdays will feature different food trucks. I am personally looking forward to seeing some cute animals on Adoption Thursdays, and I'm also so excited for the opportunity to shop from local vendors and enjoy some great food.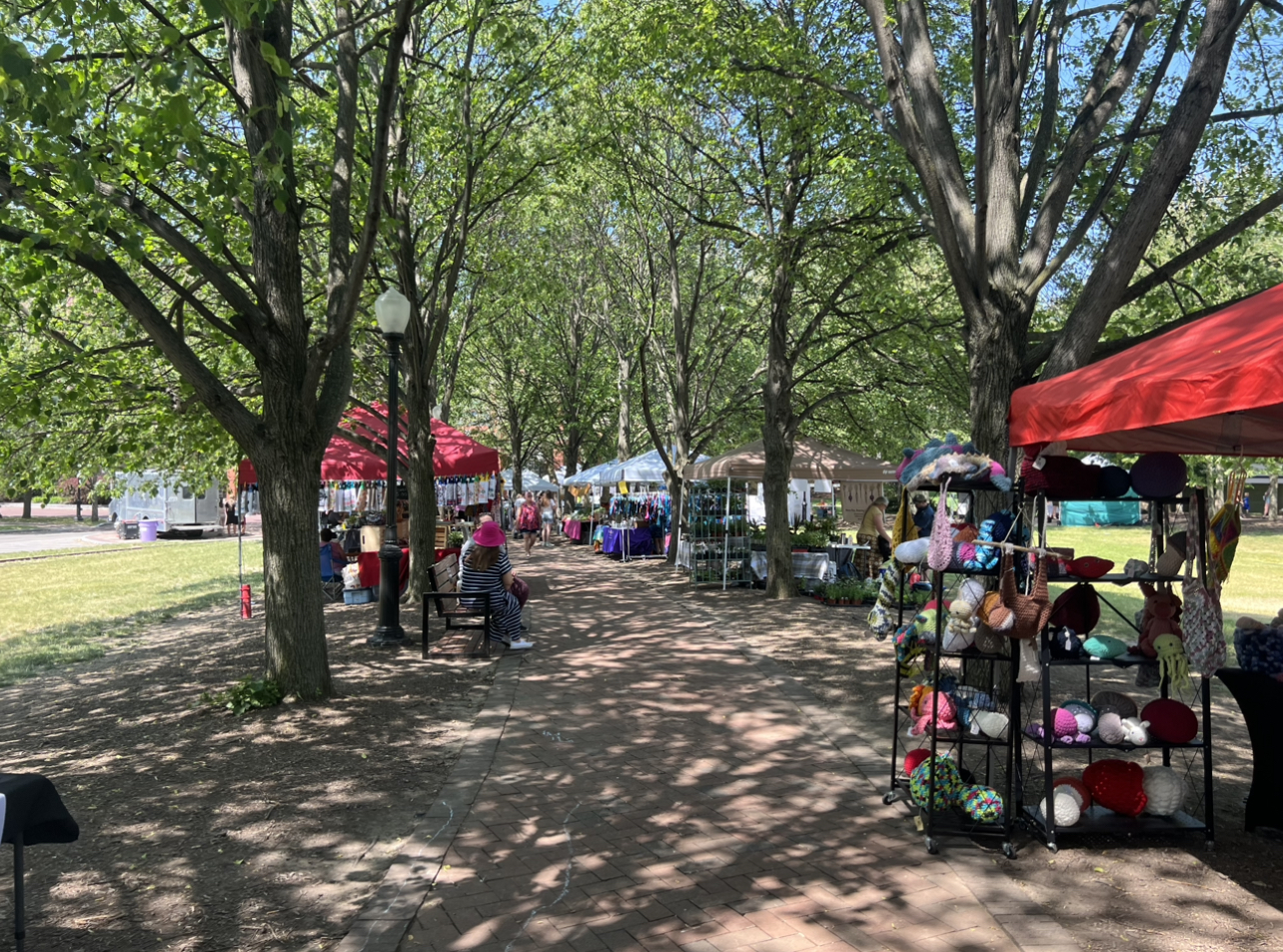 I stopped by the most recent farmers market, and the fresh produce along with the unique knit items and jewelry really caught my eye. 
Another event that caught my eye is the "Buildings Alive Historic Walking" tour. While this is not exclusively a summer event, it is definitely something that could be enjoyed extra on a warm day. Downtown Corning has a rich history of incredible architecture that comes to life during this tour.  I see these buildings often but do not know much of the history behind them, so I'm excited to learn more about Corning's history while appreciating the beautiful architecture on a sunny day. 
This summer, I'm hoping to try out new restaurants here in Corning and do some shopping at the unique stores on Market Street. I am a huge fan of trying new food spots, and Market Street is the perfect place to do so. I'm particularly eager to try Hand + Foot and Nickel's Pit BBQ. Hand + Foot even has a "late night eats" menu that I plan on trying out. I am also looking forward to eating at some of my favorite spots, such as Mooney's (I highly recommend the buffalo chicken mac and cheese), Little Boomer's, and Atlas Pizza. I plan on enjoying a lot of ice cream from Dippity Do Dahs as well, especially the best flavor in my opinion, fudge brownie. 
The last event I am eager to attend is the Market Street Social that is located between the Radisson's north and south buildings on Market Street. This social will offer seasonal al fresco dining as well as fire pits and games. One can enjoy lunch, dinner, snacks, and beverages with friends and family. My friends and I are always looking for new places to hang out, so I am looking forward to stopping by here with them. 
Corning has so many fun events planned for this summer and I know I will be coming up very often to take advantage of these!