The pandemic really hit a lot of families hard, finances became strained and getting things that some people take for granted, like clothing, just became a whole lot tougher. But this was an issue for many families even before Covid-19 came along. Therefore, I came up with a challenge to use stores located in the Corning area to create a complete outfit from head to toe under $100. Just because one may be lacking in funds, doesn't mean they have to be lacking in style. Corning is perfused with so many different opportunities and options just waiting to be taken advantage of.
My name is Jodi Hammond and I'm your local fashionista. Let's build a budget-friendly outfit using our community. When first getting started with an outfit, you need something to build onto like how a structure of a house needs to be set before you can add the walls. In my experience, this means starting with the pants. My first stop was Pookies Little Britches and while I unfortunately wasn't able to get a pair of pants to my liking, this wasn't the store's fault. I am a weird size to carry but as a second hand store the pants options overall is outstanding. My next stop was Tommy Hilfiger, and they had some amazing clearance and sales that made getting an affordable and quality pair of pants realistic. The pants I chose are high waisted and straight leg so they can be dressed up or dressed down, all depending on the occasion.
After getting my pants, knowing they would be the most expensive pair of clothing, I was able to start shopping for the rest of my outfit with $40 on hand. I went back to Pookies Little Britches and started looking for tops and was able to find a plain white button up and dark green sleeveless top. Both were under $20 together and I am able to wear them paired or separately and this also allows me to wear them in different seasons as well as make multi outfits out of them.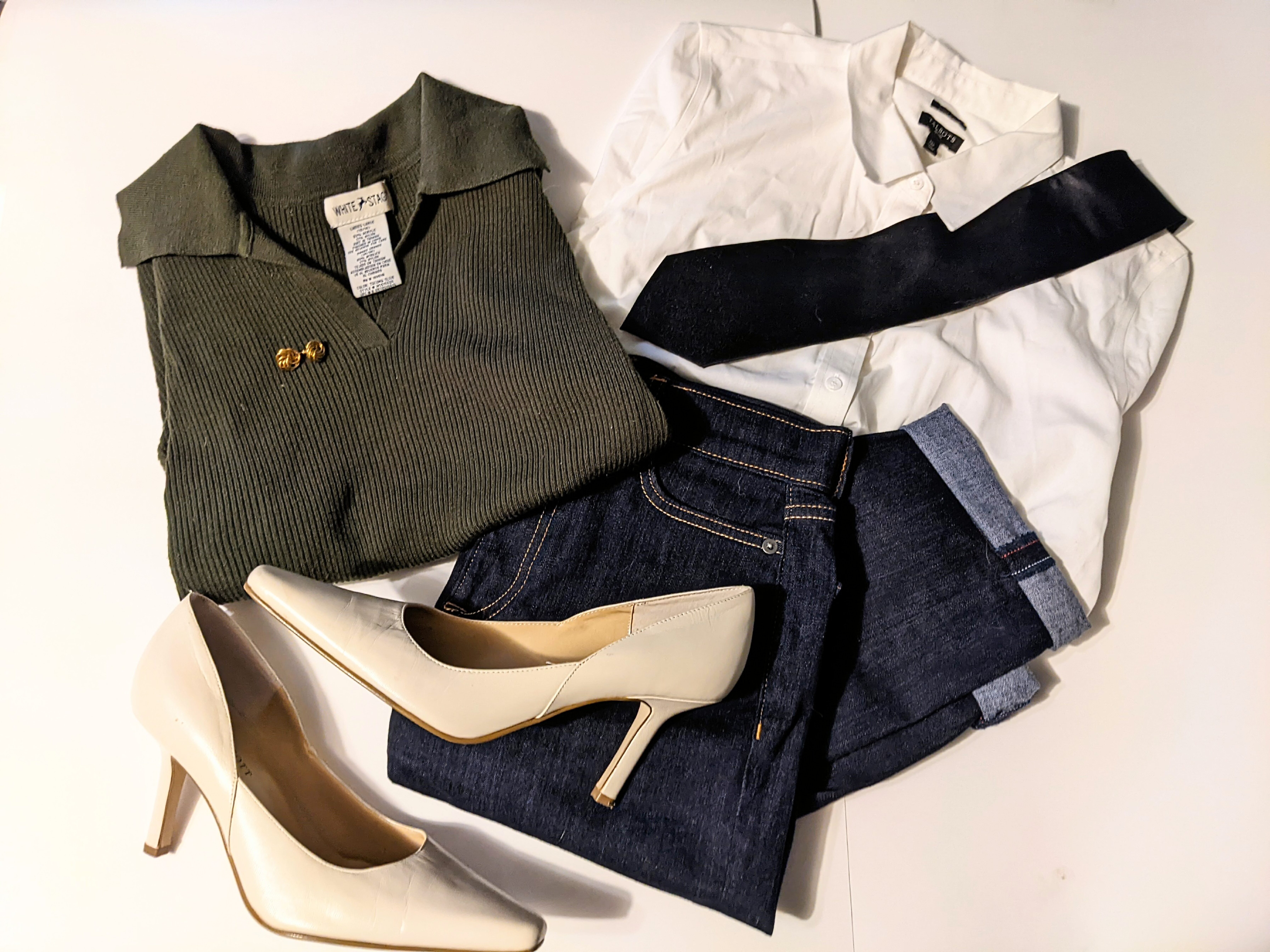 When it comes to building an outfit, you really want to pick basic pieces to build up a capsule wardrobe that will last you a long time and this also saves money in the future. My general rule of thumb is if you can't think of five other outfits you could build with that piece of clothing then it's not worth it. The safest pieces are simple, plain neutral colors – or if you prefer a more colorful pallet then it all depends on preference – but the simpler the pattern, the easier it is to build an outfit and re-wear.
After searching I ended up coming back to Pookies to also get a pair of heels and accessories. Secondhand stores are so diverse and good for the environment so I recommend going to our local thrift stores and trying to become more sustainable, you never know what you might find.
One may think that you can only find clothes in clothing stores, but don't be afraid to venture out and try somewhere new. I needed a jacket to complete my look and the store Twin Tiers Antique Plaza caught my eye. A two-story antique shop! I was amazed by what I found and was able to find a beautiful black jacket that could be paired with anything and even came with a dress. All for $16!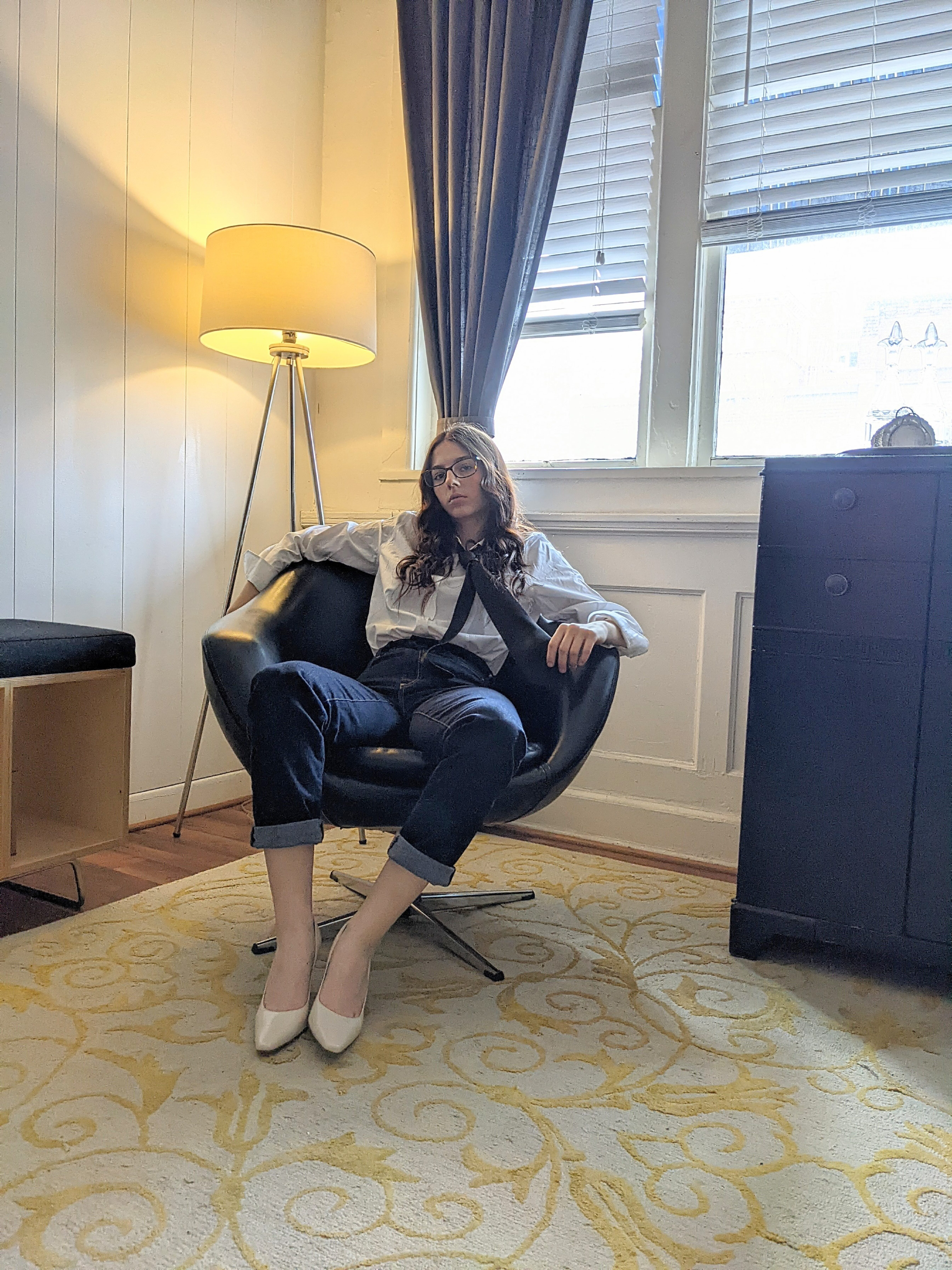 The total cost at the end for a full outfit, from pants all the way to accessories was $99. You don't have to have a lot of money to dress appealing and have pleasant things. It's all about knowing how to use what you have, and the Corning community has truly made this possible for families from all different background.
On my fun adventure I was able to also stop in and look at Pips Boutique and Threads + Co who are also located on Market Street and I can confidently say I will be going back. The staff were all so kind and extremely welcoming as soon as I walked through the door. I was able to receive help when needed and the clothing in both stores were just so stunning. Threads + Co has a lot of clothing with neutral colors that would be perfect for a capsule wardrobe and the statement pieces that Pips Boutique has is sure to make anyone stop and stare. I can't wait for their summer collections to come in because I am going to be their #1 customer.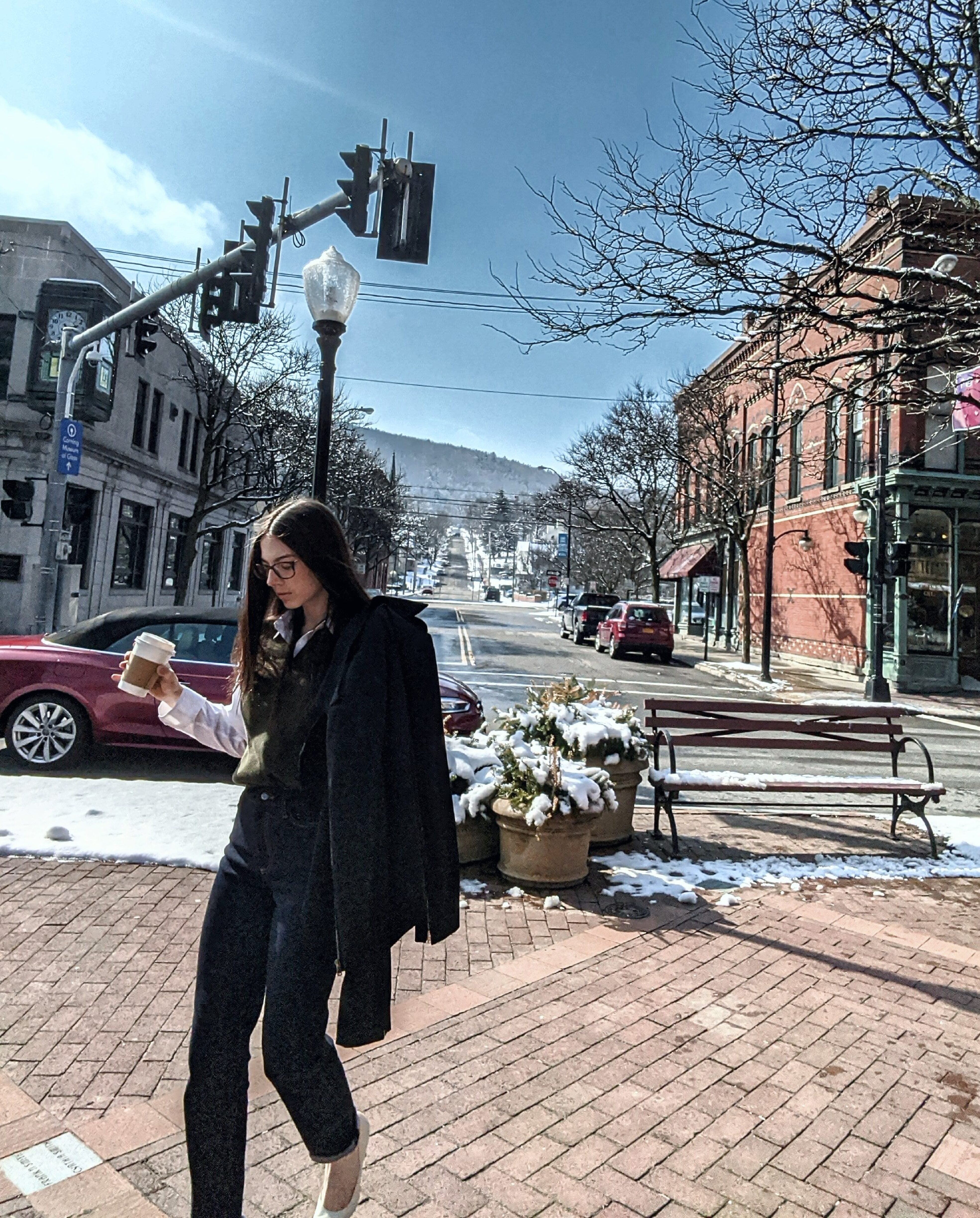 Corning has so much to offer, from the food, fashion, and coffee all the way to their activities and fun new adventures. As a person big into fashion from all over the world I can confidently say that Corning is fashion approved!