Introduction:

There is a video trend going around YouTube right now where creators go to badly-reviewed businesses such as restaurants, barber shops, makeup artists, plastic surgeons, tattoo parlors, and more to review them more honestly. The premise of the video is often, "Is this place really as bad as these internet reviews describe them to be?" After watching many of these videos, I've learned that the reviews are often exaggerated or twisted forms of reality. Usually, as the saying goes, the truth lies somewhere in the middle. I've found this content to be particularly interesting and entertaining, so I have decided to get in on the fun myself using this blogging platform given to me through my internship.

To continue my work, I took a trip back over to Yelp to find another candidate for a hopefully redeeming review. This is when I encountered Thali of India's Yelp page. I've always thought this place was good, considering my mother eats there occasionally and she is extremely picky. A look at the comments opened up a new perspective, as many described the restaurant as unsatisfactory:

"Water was stinky" – Saraubh N. of Cherryhill, NJ

"It's a substandard and low quality restaurant. Please do yourself a favor by not going" – Shiram S. of Painted Post, NY

"This place is such a poorly run business it really can't be overstated […] A gross looking cooler next to the buffet covered in tin foil so you can't see what's inside (you probably don't want to see) " – ShakeN B. of Philadelphia, PA

So what's the deal with this place? Is Thali of India a poorly run business with nasty water and low quality food? Or is it just a low profile Indian restaurant that people expect too much from?

I committed myself to finding out.
Like last time, I used a 1 through 5 scale to judge each category. Categories include: Service, Facility, Food and Enjoyment. Also like last time, I brought along my meal sharing partner, Ethan. Ethan provided me not only moral support, but also some perspective. Unlike me, he had actually eaten Indian food before, so he had something to compare it to.
So Let's Go

We visited during peak lunchtime hours in hopes of catching the food and staff at a good time. I was pleasantly surprised to see the restaurant almost full with what seemed to be happy customers. We were greeted immediately by a very friendly woman who took us to our seats.
Once seated, I began to take inventory of the facility. I looked around for the "gross cooler" near the buffet, but couldn't seem to find it. The buffet was not in use, but it looked very clean and well maintained. If anything, the restaurant is guilty of age. It could use new menus, matching water glasses, new carpeting and a few coats of paint. Other than that, the place was fine.
Our food came out within a reasonable period of time. We ordered: water, regular naan bread, garlic naan bread, "medium" chicken curry, "spicy" chicken curry, both with rice, and a mango shake. The water was acceptable, it had a little bit of an aftertaste but no odor. Both naans were great on their own, and were delicious when dipped in the curry. Both curries were warm and flavorful, I became happy while eating it, happy to have discovered a new food. The "spicy" curry was perfectly spicy. I could tell what I was eating was meant to be hot. My nose was running but I could still breathe. The rice was standard white rice, the separated variety, meaning it didn't clump together or stick to the inside of the bowl. It complemented the curry well, just how it was meant to. This brings us to the mango shake. We had high hopes, both being mango lovers, but we were unfortunately let down. The shake didn't taste like mango, it had a very artificial taste that did not emulate natural mango flavor. The taste made Ethan and I feel sick, so we ended up only taking a couple sips. Despite the shake, we were satisfied and impressed with the food.
While I was boxing our curry up, Ethan said, "I'm happy we did this, we should come here again." This statement summarizes our experience at Thali of India, and provides a nice contrast to the negative reviews. We enjoyed our time here. The relaxed and dark setting provided a nice break from the day for both of us, and the quiet hum of others' conversations allowed us an opportunity to slow down and just talk to each other.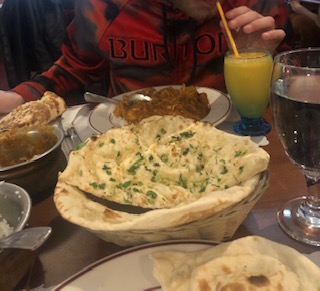 Final Rating:
Service: 5/5
Facility: 3/5
Food: 4/5
Enjoyment: 5/5
I think people are missing out by failing to accept this restaurant for what it is. For anyone who wants to go but hasn't due to the reviews, I encourage you to give it a shot. It is not fancy, it is rather run down and outdated, but the food and the service outweighs that. We left Thali of India with full bellies, a box of leftovers, and smiles on our faces. What more can you ask of a cute little downtown restaurant?