Notice
: Can't get the bearer token, check your credentials ( Response: Forbidden ) in
/var/www/wp-content/plugins/fanciest-author-box/includes/class-wp-twitter-api.php
on line
155
Warning
: preg_replace(): The /e modifier is no longer supported, use preg_replace_callback instead in
/var/www/wp-content/plugins/fanciest-author-box/includes/ts-fab-construct-tabs.php
on line
94
I am definitely one to scream for ice cream. There are so many things a simple bowl of ice cream can do. Heal wounds, dry tears, be your movie buddy. Ice cream is always there when I'm down. So I did what any logical intern would do: I tried all the ice cream in Corning to figure out which one is the best to take home on a Friday night.
Okay, I didn't try all the ice cream but I did try four staples: Hokey Pokey Ice Creamery, Peaches 'n Cream, Old World Cafe and Ice Cream, and Dippity Do Dah's. I picked one flavor, my favorite flavor, to try at all the places for consistency purposes: cookie dough. I looked for five different criteria: place (building, location and ambience), price, size of order, flavor, and texture.
Here's what I thought:
Hokey Pokey Ice Creamery – Housemade – Size: Junior – $2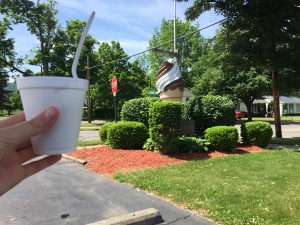 The Place: I'll be honest. I had no idea this spot existed until I was doing my research for this experiment. It's tucked away right off of Bridge St. on a quiet little corner. But there was nothing subtle about this place. Colorful tables with umbrellas of yellow and red line the parking lot. Flowers sprouting from big planters sit in the sun. Sounds of old classics like "YMCA" by the Village people play in the background. There are signs around boasting the "World's Greatest Microcreamery." It was almost a whimsical setting.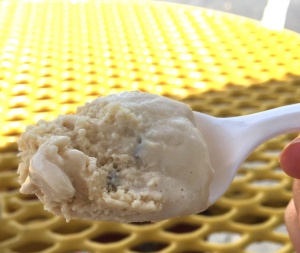 The Ice Cream: The ice cream was very different, unlike any cookie dough ice cream I had tasted before. Instead of having the classic vanilla ice cream with chunks of cookie dough and chocolate throughout, the ice cream itself was cookie dough flavored with no dough chunks. The texture was good: creamy but not too rich or sweet. It also wasn't rock hard frozen, but instead easy to eat immediately, which is greatly appreciated. Nobody likes having to bite their ice cream, or even worse, wait for it to soften. Although I did love this ice cream because of its uniqueness, I was still yearning for my big pieces of cookie dough.
Peaches 'n Cream – Perry's/Hershey's – Size: Baby – $1.45
The Place: Situated in the plaza that also holds a car garage, dollar store, nail salon, and Salvation Army, Peaches 'n Cream always seems to be busy. Or at least the parking lot is always full. The downside? It's right off of Park Ave., which is always full with cars buzzing by, so your ice cream experience might be a little loud here.
Editor's Note: Peaches 'n Cream has a second location on Beartown Road in Painted Post, part of a summertime market experience. If you're bothered by the noise and traffic, just head a few minutes outside of Corning!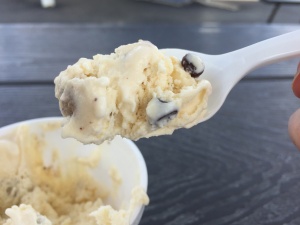 The Ice Cream: I immediately noticed the texture was harder. Even after waiting five minutes for it to soften, I still had to use my teeth. The flavor of the ice cream was classic cookie dough: vanilla with nice big chunks of dough and chocolate chips. The vanilla had a richer flavor than Hokey Pokey and because of the brand (Hershey's and Perry's), it reminded me of my childhood.
Old World Cafe – Purity Ice Cream Company – Size: Little Dipper – $2.55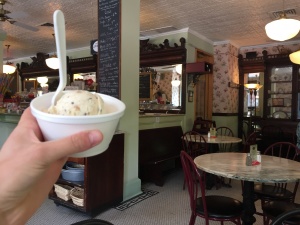 The Place: There's nothing like walking into Old World Cafe. It's like walking into Grandma's place. The floor is tiled, the walls are covered with florals, antique furniture, and plates, and somewhere in the corner is a grandfather clock ticking away.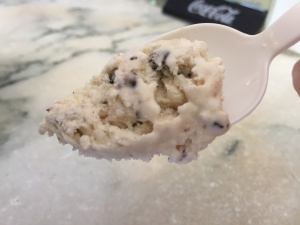 The Ice Cream: This ice cream, too, was very hard, but it was forgiven when I was hit with the richness and creaminess of the texture almost instantly. The chocolate chips inconsistently sized and spread out in the vanilla made it feel very homemade. The vanilla itself had a true, authentic flavor and didn't taste too artificial or sweet. My one complaint is the cookie dough. There were bits there, but not enough and certainly too small for me. I like to get hunks big enough you can put a few together and bake a solid cookie. But this ice cream had fragments, not hunks.
Dippity Do Dah's – Housemade – Size: Kiddie – $2.75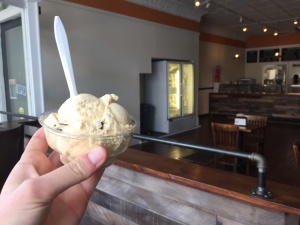 The Place: If you didn't know, Dippity Do Dah's recently moved from their original location to right next to Donna's. And the new place is a hipster's Instagram dream. Brick walls, exposed piping, dark hardwood floors, and minimalistic furniture – your classic Market Street building. If you're looking to get some more likes on your photo, this may be the ice cream parlor for you.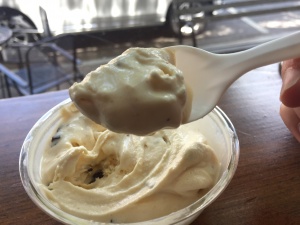 The Ice Cream: The look of the ice cream was different than the others. It had a darker tone, verging on tan. The texture was soft, creamy and easy to eat immediately. At the first bite, I got a different texture in my mouth: frothy. Frothy like the head of that first sip of beer you have after a particularly long week. It was surprising, and so good. There was a sweetness to the vanilla and its flavor came in hits, not hints. And to put the cherry on top (metaphorically), there were huge hunks and chunks of cookie dough.
Conclusion:
When I added up the scores, I was surprised. The totals were all within 2 points of each other, which tells me each place had its strengths. None of the ice cream was bad (can ice cream really even be bad?), but I was certainly amazed to taste four very differently made cookie dough flavors in one day.
But, we need a winner. And after much math and deliberation, the numbers don't lie. My favorite ice cream in Corning is Dippity Do Dahs! Even though it was the most expensive place, the combination of the atmosphere, flavor and frothy texture pushed this one over the edge.
Let me know what your favorite ice cream spot is below!
The Scores