Notice
: Can't get the bearer token, check your credentials ( Response: Forbidden ) in
/var/www/wp-content/plugins/fanciest-author-box/includes/class-wp-twitter-api.php
on line
155
Warning
: preg_replace(): The /e modifier is no longer supported, use preg_replace_callback instead in
/var/www/wp-content/plugins/fanciest-author-box/includes/ts-fab-construct-tabs.php
on line
94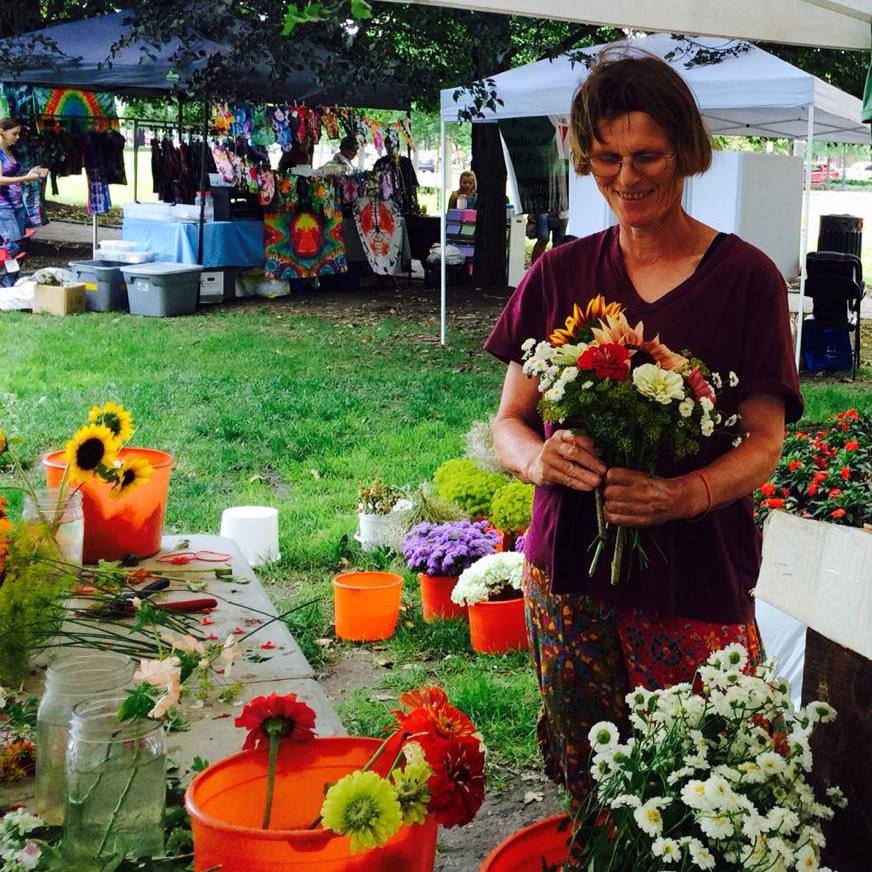 Her name is Christina, but you probably know her as ?The Flower Lady.?
Every Thursday, The Flower Lady pulls her little brown truck into Riverfront Park and sets up her tent and sells bucket upon bucket of her famous seasonal bouquets during the Gaffer District?s Summer Farmers Market.
Christina is more than just a beloved vendor at the market, she?s a downright Corning favorite, and her feeling towards our little city are mutual. So much so, she decided it?d be worth her time to set up shop every Friday in the grassy lot across from Rico?s. Two or three days a week you?ll find her somewhere on Market St. producing little bundles of sunshine for you to carry away, no matter what the actual weather may be.
For myself, and for many of you, it's a weekly ritual to stop by Christina?s tent, grab a rainbow bouquet for the office or a loved one and sneak in some conversation with a character almost as colorful as her flowers. Our talks never seem to last long, however, because before I know it there?s a line of three more people waiting patiently behind me. It seems as if everyone in Corning looks forward to seeing The Flower lady as much as I do.
This morning, some of you may have noticed that she wasn?t at the market. I myself was pretty shocked to hear that she wasn?t at her tent in person. But she had a good reason: Christina was in Rochester, receiving her official United States citizenship.
Christina, who was born in Germany, has lived in the States for 30 years. She still travels to visit her family abroad, and has never lost touch of her heritage. However, with a recent decision by Germany to allow Germans to obtain dual citizenship, she knew it was time to embrace America, as it has long embraced her.
?We?re so supportive of her,? said Regina Hill, a fellow market vendor. ?Everyone at the market is so proud of her and we were all happy to volunteer to run her stand today so she could take the time to attend her ceremony. Support is pretty typical in our little farmers market family.?
Regina first met Christina in 2010 as a first time vendor of the market, and they?ve been friends ever since. ?She?s just a great person,? she said.
?She?s a lot fun – fun needs to be attached to her name,? added Regina?s husband, Dave.
It?s clear that other market vendors feel the same kind of adoration and respect. While Regina and Dave volunteered their time to watch Christina?s tent, Liz Martin of Muddy Fingers organized a card signed by vendors and patrons alike. Coco?s Cafe decorated the tent in patriotic flare and someone even provided a tray of homemade brownies. When Christina pulled into the park to pack up, she was met with a round of applause, high fives and hugs.
?Corning is my absolute favorite market,? said a grinning Christina. ?It?s fun, upbeat and people are always smiling. These vendors here have become my friends. Some of them, I?ve known for years. They?re just like my family.?
?This place isn?t your typical little town,? she added. ?Corning is great. Corning is special.?
Well, Christina, we think you?re pretty special too.
From all of us at Urban Corning, we?d like to wish her a hearty congratulations on a much-deserved accomplishment. Well done and best wishes!
—
If you'd like to visit Christina, or congratulate her in person, she can be found at the farmers market each Thursday, and at the lot across from Rico's Pizza each Friday. For business?inquiries, she can be reached via phone at (607) 359-3574 or email at [email protected].