Before you start vaping…
In college I was a casual smoker…?I smelled and felt terrible, but I was addicted. ?Eventually my college swim coach helped me quit, but I'd be lying if I said I haven't struggled with it since. I preface this article with my story because I feel the need to give caution when writing about this new store that sells nicotine products (although, many people who "vape" do not use nicotine at all).?I've had a positive experience with vaping (aka e-cigarettes) since 2008, and I do keep up on the technology and studies surrounding the industry. A lot of information and misinformation is floating around.
It's important to note that even though the FDA was granted authority over regulating e-cigarettes in 2011, there are few regulations in place other than how they can be marketed. If you chose to vape, finding a reputable US-based source that promotes the safest possible products is not only in your best interest, but also in?the best interest in the growth of the vaping / e-cigarette industry.?The Vape Flavorium on Market St does in fact use high quality ingredients. Other than nicotine (which is optional), the ingredients in the Vape Flavorium's products are?Vegetable Glycerin and flavoring.
---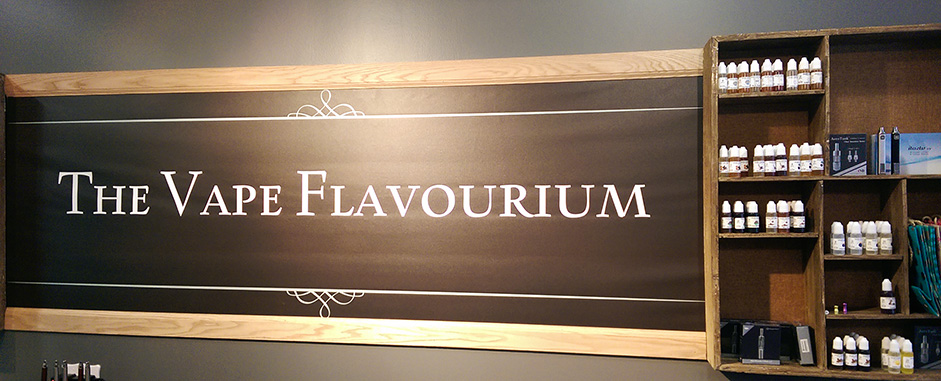 Will vaping help me quit smoking?
Vaporizing devices cannot be marketed as quitting devices. That being said, most people vape in order to stop smoking those smelly old "analog" cigarettes. From personal experience, it is also a lot easier to stop vaping than it is to stop smoking, simply because you can?reduce the amount of nicotine to zero. The?transition to?vaping from smoking "analog" cigarettes is not easy for everyone. My best advice is to try to quit smoking altogether, but if after a period of time you're breaking down, try vaping before you buy another pack of cigarettes.
What are the benefits of vaping?
There are no benefits to vaping if you are not already a smoker. I discourage it if you are not looking for an alternative to tobacco products. If you're a smoker there are major advantages. Studies of vaping liquid (e-liquid) understandably?focus on the most questionable of the available?products. My hope is that such studies will result in better quality, regulated products, rather than casting a shadow over higher-quality products found at places like The Vape Flavorium. However,?even those studies find significantly less harmful substances than what's found in cigarettes – nine contaminants found in e-cigarettes vs 11,000 found in traditional cigarettes (source: ABC News).
What I like most about vaping is the flavor choices and lack of smelling like an ashtray. The Vape Flavorium gives you the opportunity to try-before-you-buy a variety of chocolate and fruity flavors to tobacco and other?"savory" flavors. Second-hand smoke is a non-issue, but that isn't to say someone standing next to you wants your warm strawberry cream breath blown in their face all night.
Another major benefit is that vaping is significantly cheaper than traditional cigarettes. The set-up cost can be around $50-$100 depending on the product you buy, but after that point you're just buying liquid and the occasional replacement part. A regular smoker can easily blow $200+ a moth. When I was a heavier vaper than I am now, I spent an average of $50 / month.
As I mentioned earlier, you can vape without nicotine at all. That might sound weird to some people, but I don't always vape with nicotine because I just enjoy vaping. Nicotine is a drug, it's addicting, and whether you don't want the addiction or perhaps you don't want bottles of it around your children, you can go without it completely. All containers sold at the Vape Flavorium are childproof.
Habit Vs Hobby
When I encourage my friends to stop smoking and start vaping, one tip I give them is to?think of vaping as a hobby rather than a habit. If you use nicotine, obviously there's a level of habit / addiction. Other than that fact however, there are lot of personal choices in terms of technology and style that will give you a more customized experience. It's a simple device: battery, heated vaporizing coil (aka?atomizer), and a tank that holds the liquid. All of those things can be customized. The choices you make initially will?change over time, as you develop an understanding of how?the technology works and how you can modify it to fit your personal preferences. The end result is always the same, a simple device that fits in your pocket, but getting to that point involves some choices, and that's where The Vape Flavorium comes in!
The Vape Flavorium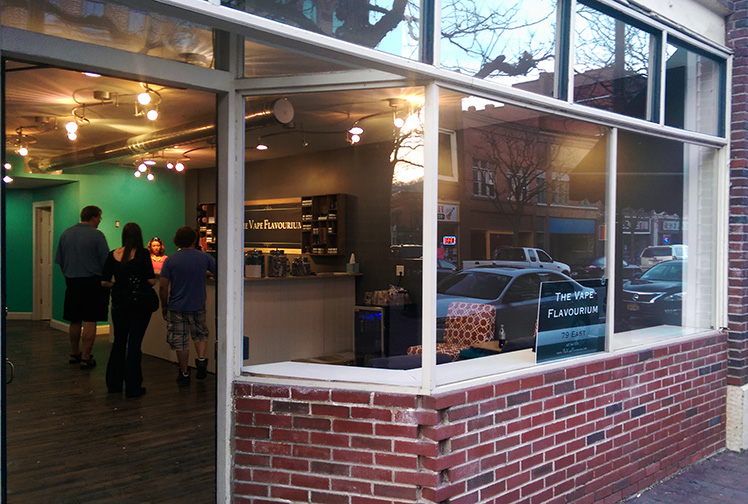 If you're a total newb, having an experienced person?tell you about the?choices, and show you how to use the device, is a huge advantage over mindlessly purchasing products online.?At The Vape Flavorium you can test?their growing line of technology and flavors for free. In all honesty, vaping is not as simple as picking up a cigarette and lighting it. It's not complicated, but having someone walk you through getting set up will make for a better initial experience. If you've been vaping for a while, I don't have to tell you how much more convenient it is to have a local source for purchasing liquids, replacement coils, or getting the downlow on the latest tech.
When I started vaping, I?had to mix my own liquid to make sure I was getting high quality ingredients. Mixing is the most annoying part of?vaping. However, At The Vape Flavorium, you don't have to worry about quality, mixing your own, or buying premixed liquid online that turns out to be a dud. You can just focus on finding flavours you enjoy (and they are?much tastier?than anything I produced at home). I should note that when tasting the flavours at The Vape Flavoium, there is no nicotine involved. You can purchase flavors with nicotine, and you must be 18?years old regardless of nicotine content.
Currently, the store has a tasting counter and products to sample and purchase. The owner plans on expanding into a vaping lounge where you can hang with fellow vapers. Right now, tasting hours are limited,?and the best place to find out when they are open is to check their?Facebook Page. You can also set up group or individual tastings by contacting the store?directly.
The Vape Flaovorium | 70 E Market St, Corning, NY 14830 | Facebook Page | 607-346-7276