Corning has plenty of good / rational people. However, strike up a conversation about the best pizza place in Corning, and you'll find yourself in a bar fight… even if you didn't start the conversation in a bar. I propose a truce… a?counter-argument?to the idea that there has to be a "best" in the first place. There's a time and place for all of our pizza joints.
---
?
Pudgie's

|?The Party Pizza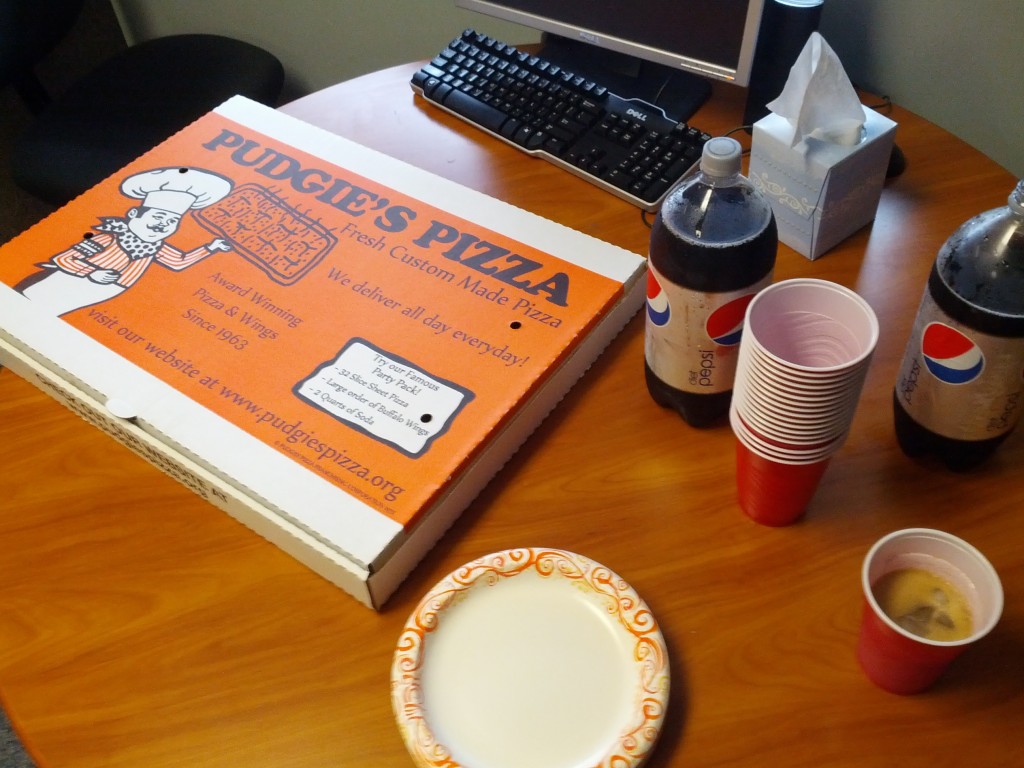 I'm starting with Pudgie's Pizza because it's probably the most divisive. People love to hate it, but it's undeniably an area success.?Their pizza is unique – too thick to be New York style, and it's definitely not Chicago style. Pudgie's gets a bad wrap because of terrible imitations. I've overheard friends claiming that their gas station knock-off pizza was a legit Pudgie's pizza… they are no longer my friends.
The best way to enjoy Pudgie's is at a party with 1-2 sheet pizzas. ?Perhaps I should rephrase that… the best way to enjoy a party is with 1-2 Pudgie's sheet pizzas. If you grew up near a Pudgie's, every birthday party, school event, and team sports get-together had at least a couple sheets to help you sleep at night. And by sleep, I mean put you into a food coma.
Pudgie's Pizza is @ 61 Bridge St. Corning, NY | Website?
---
Aniello's

|?The Community Pizza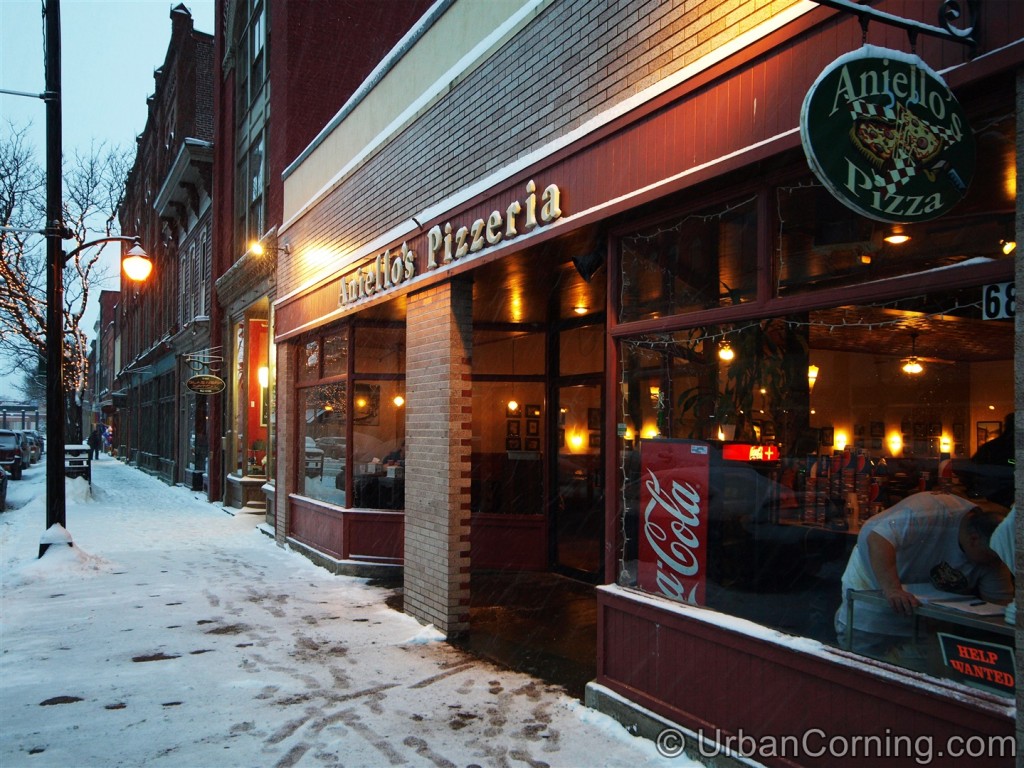 Discussions about Aniello's often devolve into complete pizza-rage attacks. I've found that if you ask someone who grew up in the city of Corning where to get pizza, they'll probably say Aniello's, while transplant-residents more often say something else. That's because Aniello's is a central part of life for people who grew up in Corning.
Parents bring their kids for dinner because it's an energetic atmosphere. Teens hang out there doing whatever it is that teenagers do. And the bar crowd ends up there because… well, because they're open. It doesn't really matter if you love it or hate it, if you're in Corning long enough, you'll end up at Aniello's one way or another.
Aniello's?Pizzeria?is @ 68 E. Market St, Corning, NY | On Facebook
---
Rico's

|?The True NY Pizza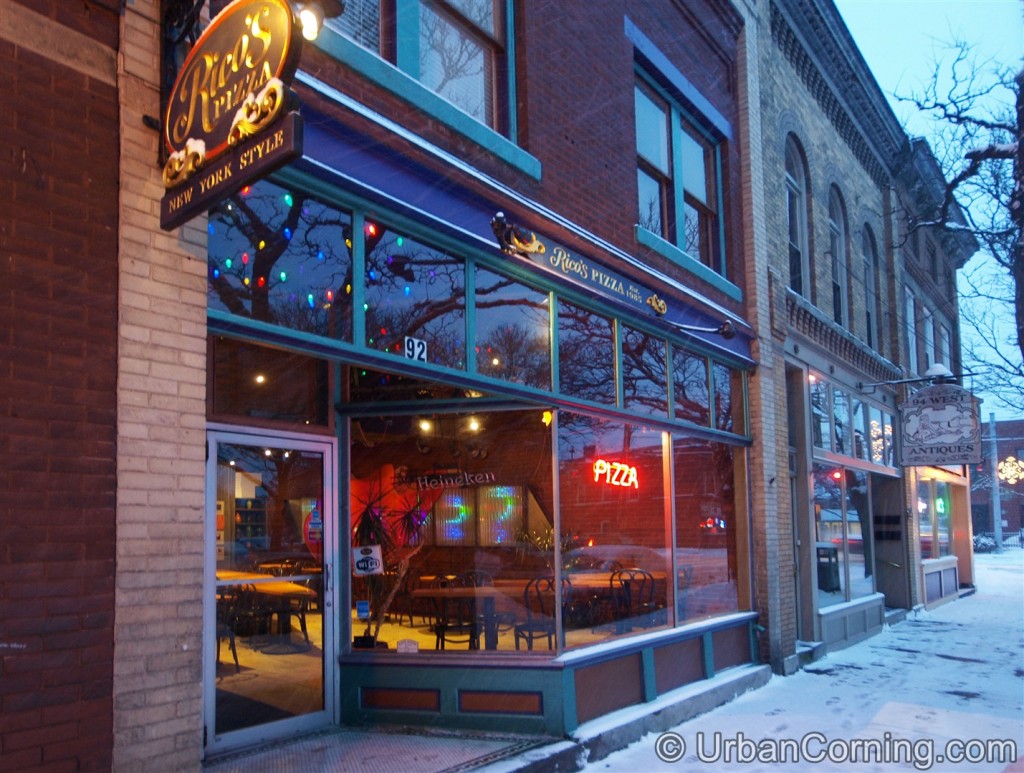 Rico's is somewhat removed from the drama surrounding the other pizza joints. But don't mistake that fact for it not being worth fighting about. Rico's makes a very good classic NY-Style pizza and there just isn't anything to complain about, unless you don't like NY-style pizza… in which case, move.
Rico's is a trendy spot where you can relax and be your cool self while sipping on a Jones Soda. Now that I think about it, it should have made my list of Top 10 Places to Eat Alone, but it also makes a good pop-in spot for a quick pizza date (my kind of date). I used to work in NYC; when I'm on Market St and need a slice similar to what I found in the city, I head to Rico's.
Rico's Pizza is @ 92 W. Market St, Corning, NY | Website
---
?
Atlas

?|?The Dinner Pizza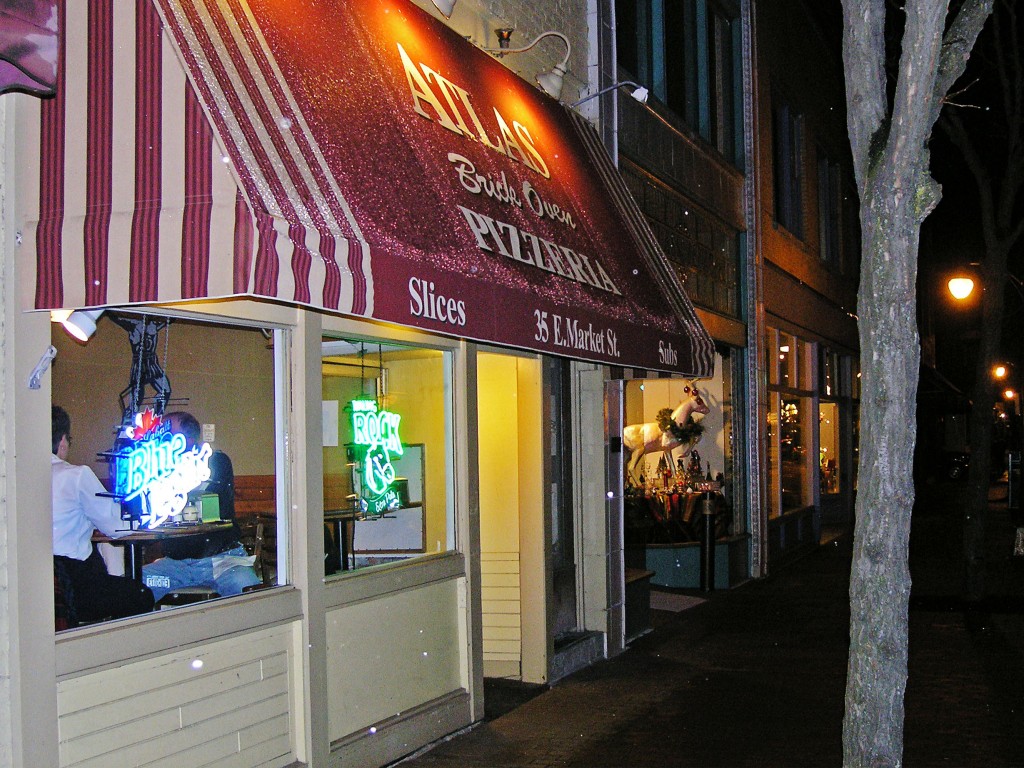 Atlas and Aniello's are nearly across the street from each other, and because of this they are at the center of Corning's Pizza War. If you live in Corning, you have an opinion, and it's nearly impossible to hold it back. Calm yourself; I come in peace.
Atlas has a great atmosphere for a sit-down pizza dinner. Their specialty pizzas can't be beat, but I'm a purist and usually opt for plain – I love their cheese blend. If nothing else, I get their fantastic cheesy bread or – my favorite salad in Corning – the garden salad with their house (creamy) Italian dressing. There's also an upstairs bar that makes a great stop for the hungry bar hopper.?
Atlas Brick Oven Pizza is @ 35 E Market St, Corning, NY | Website
---
Padre's

| The Secret Pizza
Padre's is the secret pizza spot for us North Siders. That being said, no business wants to be a "secret business," and there's good reason to visit them.
It's surprisingly unique inside with a soda shop / pizza joint atmosphere. They also have a huge menu, from burgers and pasta to tacos and subs. Don't miss their garlic knots; they are killer. It's also the only place around to get something similar to Rochester NY's famous garbage plate (called the Padre Platter: 2 cheeseburgers – or 2 hotdogs or 2 italian sausages- on top of tuna mac & french fries, topped with meat sauce, onions, and mustard).?After I completed that last sentence, I had a heart attack and I died.
Padre's Pizza Parlor is @ 108 Bridge St, Corning, NY | Website
---
OIP

| The Best Pizza in Corning and Everyone Can Just Shut Up About It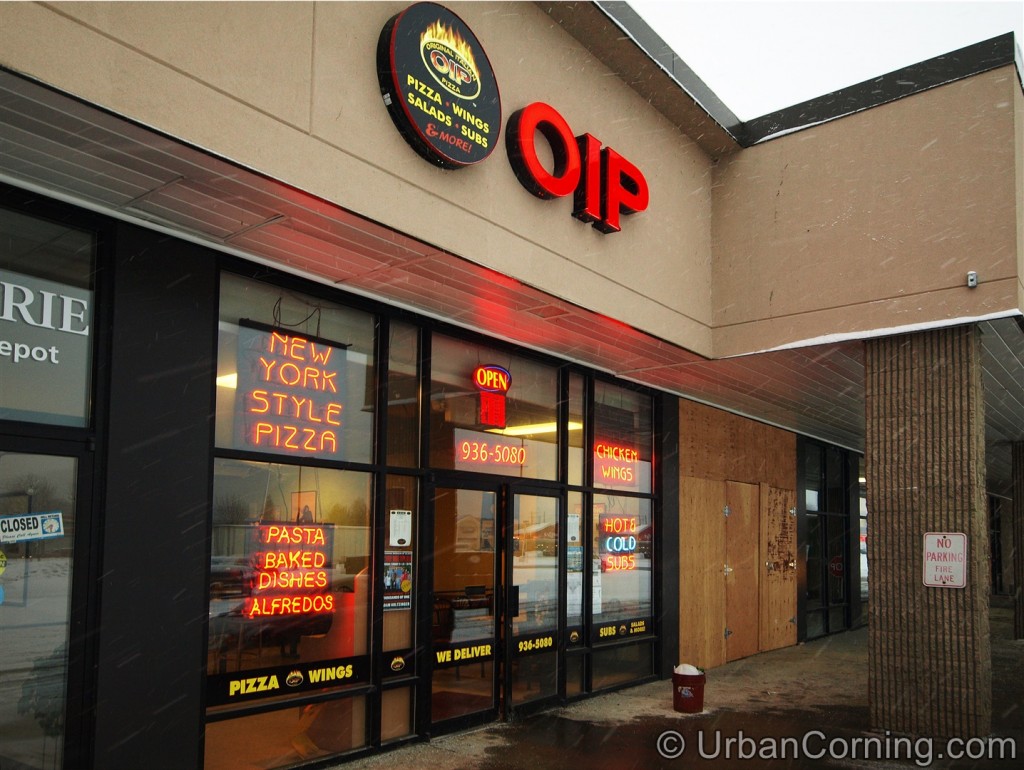 All that nice stuff I mentioned earlier about containing my opinion and bringing peace… pure lies. Original Italian Pizza (OIP) is the best pizza in Corning and everyone can just shut up about it.
OIP has its downfalls… it's in a lonely plaza (until the north side Top's opens), the decor is… well… non-existent, and ordering to-go doesn't compare to having a slice fresh from their oven. That being said, OIP is the best pizza in Corning and everyone can just shut up about it.
??OIP is @ 360 W Pulteney St, Corning, NY |?(607) 936-5080