Independent glass artists within our community design art and functional glass that is known throughout the world. However, there?are few local stores to feature all of these artists.
The best way to view, purchase, or discuss their work, is to directly contact the artist. Use this directory to find artist websites, email addresses, and phone numbers.
---
Glass Art?| by?G Brian
G Brian, a resident of Corning NY, combines blown, kiln-cast and hot worked? solid glass to create forms of beauty. First introduced to hot glass in his home town of Detroit, G Brian went to New York to study fine arts at Alfred University. There, he earned a Bachelor of Fine Arts and a New York State K-12 teaching certificate. G is now a Gaffer for the Hot Glass Demo at the Corning Museum of Glass.
Contact G directly at:?G@gbrian.com
---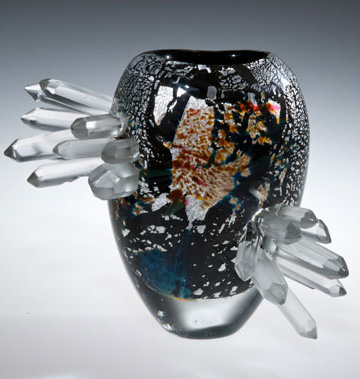 Via WestEndGallery: Ross Delano has been working with glass since 2005, when he was introduced to the material at Franklin Pierce College.? Delano?s personal work focuses on creative functional wear and sculpture inspired by the natural world.? Selections of his glass can currently be found at the?West End Gallery in Corning, NY.
In addition to creating and selling his own work, he has assisted numerous artists throughout New England to create their production and art glass.? At The Studio of The Corning Museum of Glass, he has also worked as a gaffer and assistant to many international artists in residence.? Delano teaches glassblowing classes at The Studio and Urban Glass in Brooklyn, NY.
Contact Ross directly at: delano120@aol.com
[clear]
---
Quinn ?is a contemporary artist producing beautifully designed functional and sculptural objects.?Her daily studio practice involves many different glass-working processes, including glass-blowing at the furnace, flame-working, and painting with glass enamels.
Quinn serves on The Board of Directors of the ARTS Council of the Southern Finger Lakes and teaches classes in beginning flame-working at The Studio of The Corning Museum of Glass. Her glass is carried in shops nationwide.
Contact Quinn directly through her website at QGlassArt.com [clear]
---

Art and Design| by Dan Mirer
If you live in Corning, you have probably seen Dan's work featured in stores downtown or the glass market at CMoG. His designs and attention to detail are well known in the glass community. As I write this, I'm looking at a Dan Mirer glass pitcher on my kitchen counter. ?Dan's work appears in galleries and retailers throughout the US. He has been working in glass since the age of 16. Dan attended the Rochester Institute of Technology, Alfred University, and the Pukeberg School of Design, Sweden. He lives and works in Corning, NY.
Contact Dan directly if you'd like to purchase, commission, or discuss his work. DanMirer.com[clear]
---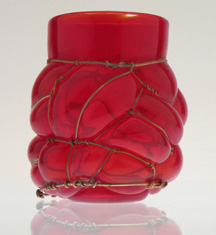 Glass Craft & Sculpture | by?Chrissy Lapham
Chrissy works at The Studio of the Corning Museum of Glass and studied Art & Design at Alfred University. She is an experienced glassblower with skills in woodworking, printmaking, and ceramics. Her work has been featured in galleries throughout NY.
To view, purchase, and disccuss her work, contact Chrissy through her website at: ChrissyLapham.com[clear]
---

Our hand made glass pumpkins are made by some of the best glass makers in Corning, a city with a rich history in glass blowing. Our production teams, trained in Corning, NY, Murano, Italy, and Seattle, WA, are some of the finest in the world. Our master glass workers make every effort to produce durable and beautiful pumpkins.
We have?many color combinations and styles?to choose from. Glass colors are imported from a prominent glass color factory in Germany which prides itself on creating the highest?quality glass color in the world. Each pumpkin is hand made so no two are exactly alike.
Online at: HandMadeGlassPumpkins.com[clear]
---

Janet Dalecki has designed glass nearly her entire life. Glass was a in her family before she was born, and she continues the tradition by exploring the medium as a functional artform. ?Janet is often working at the Studio of the Corning Museum of Glass, where she has instructed several classes in the design and techniques of glass production.
View her available works on her Etsy Shop: JDalekiGlassWorks[clear]
---
More Glass Artists Coming Soon!
To get listed, contact CreAgent Marketing today.