1) $2 Mimosas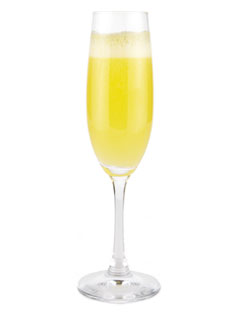 I've been a fan of brunch ever since I realized mimosas existed. When I lived in the south, I'd meet friends at a different brunch spot every Sunday. My favorite place had all you can drink mimosas for $15… and yes, sometimes that would be all I ordered. Unfortunately for you, dear readers, it's against a law or local ordinance to have "all you can drink" promotions. However, The Cellar has a way around this… $2 mimosas!
MATH QUIZ: If each mimosa at The Cellar costs $2, and all you can drink Mimosas are $15 at Establishment B, how many mimosas can you consume at The Cellar for the price of Establishment B? If you said 7.5 you're wrong, mathelete nerd. The answer is 7; you can't order half of a mimosa for $1.  None the less, I plan on testing my hypothesis that 7 mimosas is all I can or should drink for breakfast.
Before you rush the joint with all those $2 bills your grandmother gave you for Christmas, there's one small catch… another law or local ordinance that, if you don't plan in advance, will put a wrench in any goals of getting tipsy for breakfast (brunk?)… You can not order alcohol before noon! Not being the alcoholic you may have just started thinking that I am, I was not aware of this 12:00 no drinking rule in Corning. Therefore I arrived at 11:00 and was forced to spend my breakfast hour eating food.
2) Awesome Food
Based on my knowledge of proper restaurant management gained from watching the show Kitchen Nightmares, I can tell you that the key to a successful restaurant is a small and easily manageable menu of great recipes. That is exactly what The Cellar has done. Their breakfast menu is simple and unique: 3 salads, 2 pancake or waffle options, and 6 meals under the heading "Omelets and Eggs" (also, daily specials).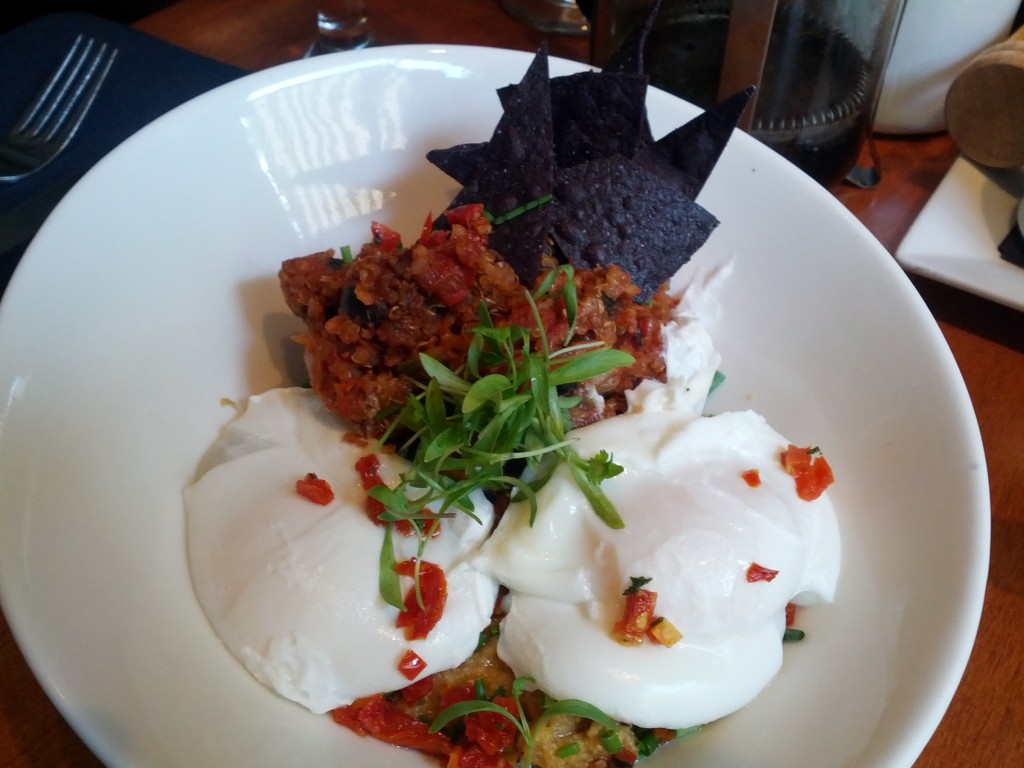 I am a sucker for specials. I'll also mention that I have an intense hatred for omelets. Love eggs; hate them in omelet form. One of the specials was a callback to my southern days: Polenta w/ Quinoa chili (sort of like couscous), and 2 Poached eggs…. FREAKING AWESOME. My BFF/GF, ordered an omelet.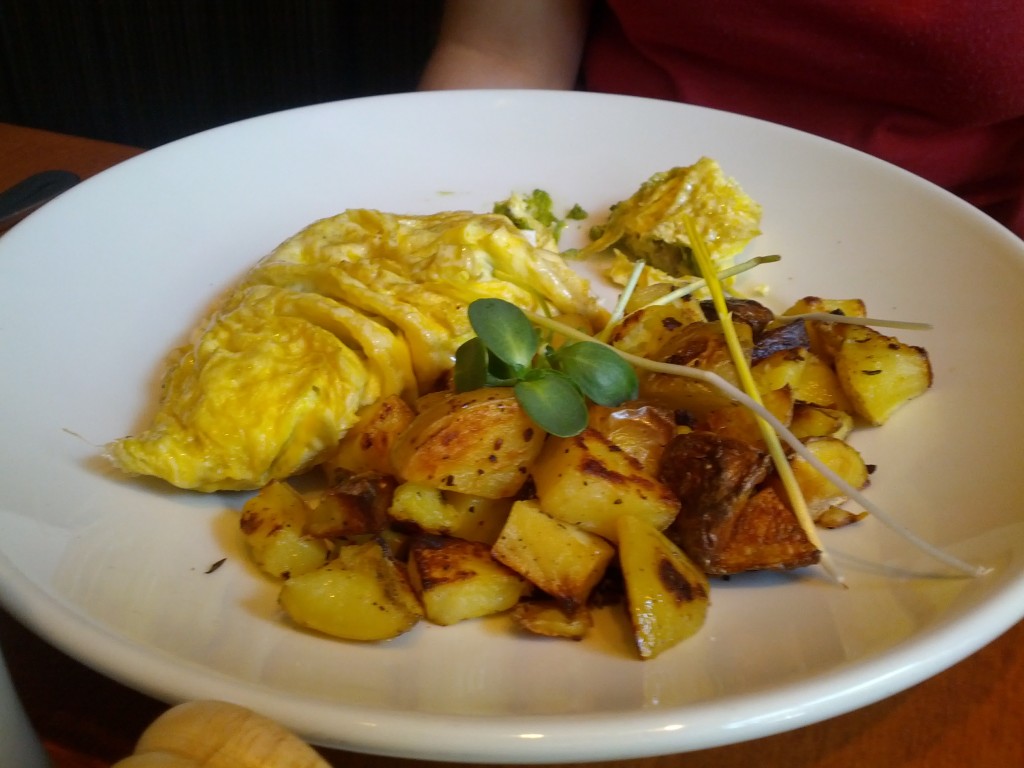 Well I have no idea how, but The Cellar made the only omelet I would ever consider ordering. OMG dear readers, it was awesome; the complete opposite of what I hate about omelets. It was moist, cheesy, and unbelievably flavorful.
3) Priced Right
Price you ask? Well, my girlfriend and I consider a total bill of $30 as our base/average for decent quality meals.  That changes relative to our expectations, which are higher going into a place like The Cellar, considering the quality of the food, atmosphere, and presentation are all above average. Surprisingly, we snuck in under $30 with 2 meals, a French press pot of coffee, and yes, I did stretch my time out so that I could get in one $2 mimosa at noon.
The Cellar | www.CorningWineBar.com | 21 W Market St, Corning, NY  14830
**Editor's Note: Some information in this post is dated. The Cellar no longer offers mimosas at $2. That said, you DEFINITELY still want to want to eat brunch there.**